7 Speaking Voice Elements that Empower your Leadership credibility 
In this course I would like you to become aware of your speaking tonality and use the tools and techniques to control and change the way you speak, removing the limitations in your communication. 
"The only reason to master technique is to be sure the body does not interfere with the soul's free expression." —La Meri 
This course is focused on the speaking voice technique and has been created to help you shift your speaking voice from;
1.    Boring monotone to interesting and memorable 
2.    Unclear to concise and understandable 
3.    Intimidating to engaging, welcoming and open
4.    Powerless to being a confident influential agent of change 
5.    Unexpressive to emotion-centred speaking, engaging others deeply.
This course you are currently taking, The 7 speaking voice elements that empower your leadership credibility, is an introduction to a full program where you will have access to comprehensive understanding of how to use your voice and many more voice exercises to help you dive deeper into changing and improving your speaking habits.
 If you choose to upgrade to the full program after purchasing this course you will receive a discount coupon for $100 off the full price.
TESTIMONIES
"Maria Pellicano's course, 7 Speaking Voice Elements that Empower your Leadership Credibility is filled with information that has allowed me to be aware of the ways in which I use my voice and how my message is portrayed.. It has given me the tools and practices that I can use to work towards speaking in a more engaging manner and be more purposeful with my message. I really appreciated the easy to follow format.. you can feel the passion and experience that Maria has, as she shares her extensive knowledge surrounding the voice." Karen Harding 
This course has strategies and practical tools that will help you have the professional voice tone you need for executive presence. Maria Pellicano provides an abundance of information such as research, videos, voice warmup tracks, worksheets to help you empower your speaking voice to sound credible and influential. I have truly benefited from this course, My voice is clear and powerful and I have developed confident speaking skills. In this course you can download practice tracks and do weekly warmups to continue to strengthen voice any time you want.  Melanie Wood
 This Course is simple, straight forward and helps you understand what you may never considered that impacts your speaking influence. From very practical aspects such as voice exercises to insights you are inspired to change your speaking voice tone to have greater authority and credibility. I now have more choice to express my speaking style and approach in any conversations or public presentation. If you are an executive leader, with this course you will be able to use your voice to inspire others take action and increase productivity.  Sandra Mazzi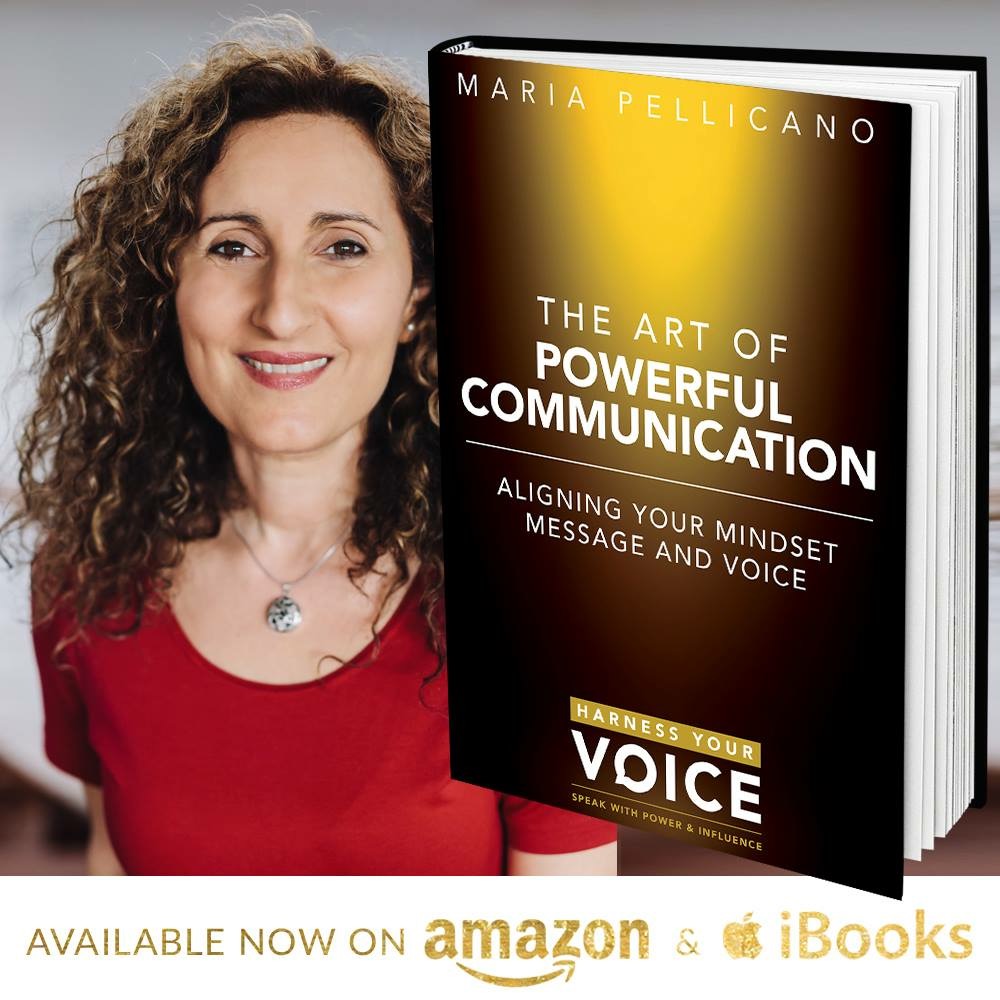 My passion for empowering the human voice comes from the pain of watching dis-empowered people with great ideas and unique messages not be able to freely express themselves for the fear of rejection and not belonging. Voice tonality is non verbal communication and I have seen the impact of limited ability to influence and be clear all due to the lack of professional feedback.