How to get back an Hour a Day
Time is like a river—it keeps flowing constantly. As you try to guide your teams on how to sail through their obstacles and reach their destination in time, you need to learn the concepts that govern optimum efficiency.
The biggest principle that governs it is the amount of time one can dedicate to their tasks.
THE TRADITIONAL APPROACH TO TIME MANAGEMENT DOESN'T WORK
Time management is all about being very clear and precise about what you want to do, and when you want to do it. It is a system based on goal setting and achieving small milestones in a certain timeframe.
However, work environments and business norms are not simplistic enough to accommodate this approach anymore. As demands increase and your business's expectations skyrocket, you need a more holistic approach to managing your teams so they can make the most of their time.
But is that even possible?
AN UNEXPLORED AVENUE FOR PRODUCTIVITY
Imagine if you were somehow able to get back an hour of time to use on productive tasks every single day. Imagine if every one of your team members could get one more hour of work done every day, without having to work overtime.
Achieving this feat is what this course is all about.
COURSE OBJECTIVES
This course will teach you how to train yourself and your teams psychologically and rationally to understand the concept of time management—not only from a goal completion perspective but also from a technological, behavioural, and practical point of view. Here are some of the topics that will be covered throughout the duration of the course:
Observing what isn't working
Identifying the things that are killing your time
Understanding the consequences of incompletions
Placing the right rewards at the right place
The power of contextualising
Translating KRA into drive
Prioritising the right things at the right time
·Leveraging technology in the most efficient manner
COURSE OUTCOME
The course will teach you to focus on all the little quirks and cracks in your work methodologies that end up wasting an hour of your day—one to three minutes at a time. But that's not all. It will also teach you and your team a way to work around this problem in a self-gratifying way. By being increasingly productive with lesser effort and improving their confidence in the process.
It's time to forget about what you think you know about time and take on a new approach that is bound to put you ahead of your peers. So, join the program and empower your staff to take back an hour—every day!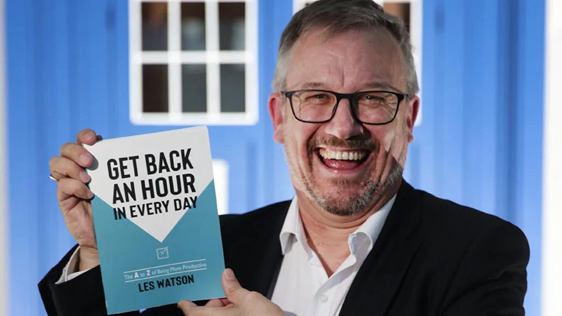 Les Watson's passion for and expertise in time management and productivity has earned him the nickname 'The Time Lord'.
He has worked extensively throughout Australia and South-East Asia delivering dynamic training programs to major corporations, small businesses and individuals.
Les's depth of knowledge and skill comes from over 30 years of experience as a trainer, speaker and facilitator in self- management, motivation and communication. He lives and breathes time management in his own life.