How the NDIS Can Work For You
The National Disability Insurance Scheme (NDIS) is the biggest change in healthcare since the introduction of Medicare in the 1980s. It is for all Australians and means changes for all Australians. 
Participants and their carers now have greater choice and control over what services and supports they receive and it takes a lifetime approach - investing in people with a disability early to improve their outcomes later in life. They are no longer told what they can have when they can have it and who will provide it.
Now, in order for the scheme to work efficiently and effectively, we need providers who are skilled in what they do as well as knowledgeable of the NDIS environment. There are many opportunities for businesses to contribute to the success of the NDIS by:
●    Providing services and products to participants
●    Providing services and products to providers
●    Providing services and products to the government
●    Developing innovative products
●    Developing referral partnerships
The How the NDIS Can Work for You course will help you decide what you can offer in terms of services and products and what you need to get started and operate efficiently and profitably in this complex environment.
This course shares valuable insights into the disability environment that exists in Australia, the challenges and the opportunities. I will take you step-by-step through the history of disability in Australia, what the framework of the NDIS is, who are the key players, the challenges and opportunities, what structures and processes businesses need to have in place to manage in this complex environment and be successful. We cover key topics including:
●    The history of disability in Australia
●    What is the NDIS?
●    The challenges and opportunities in this environment
●    How funding works and getting paid
●    Understanding what you are good at and your target market
●    Determining your business structure, processes and planning
●    Marketing your business for effective results
●    Having effective financial and operational management
●    Identifying and meeting your compliance requirements
●    Building a network of trusted partners and service providers
The course comes complete with these easy to complete templates for your use.
So if you want to know How the NDIS Can Work for You, enrol in this course to gain the necessary knowledge and skills to be successful in setting up and running a business in this complex environment!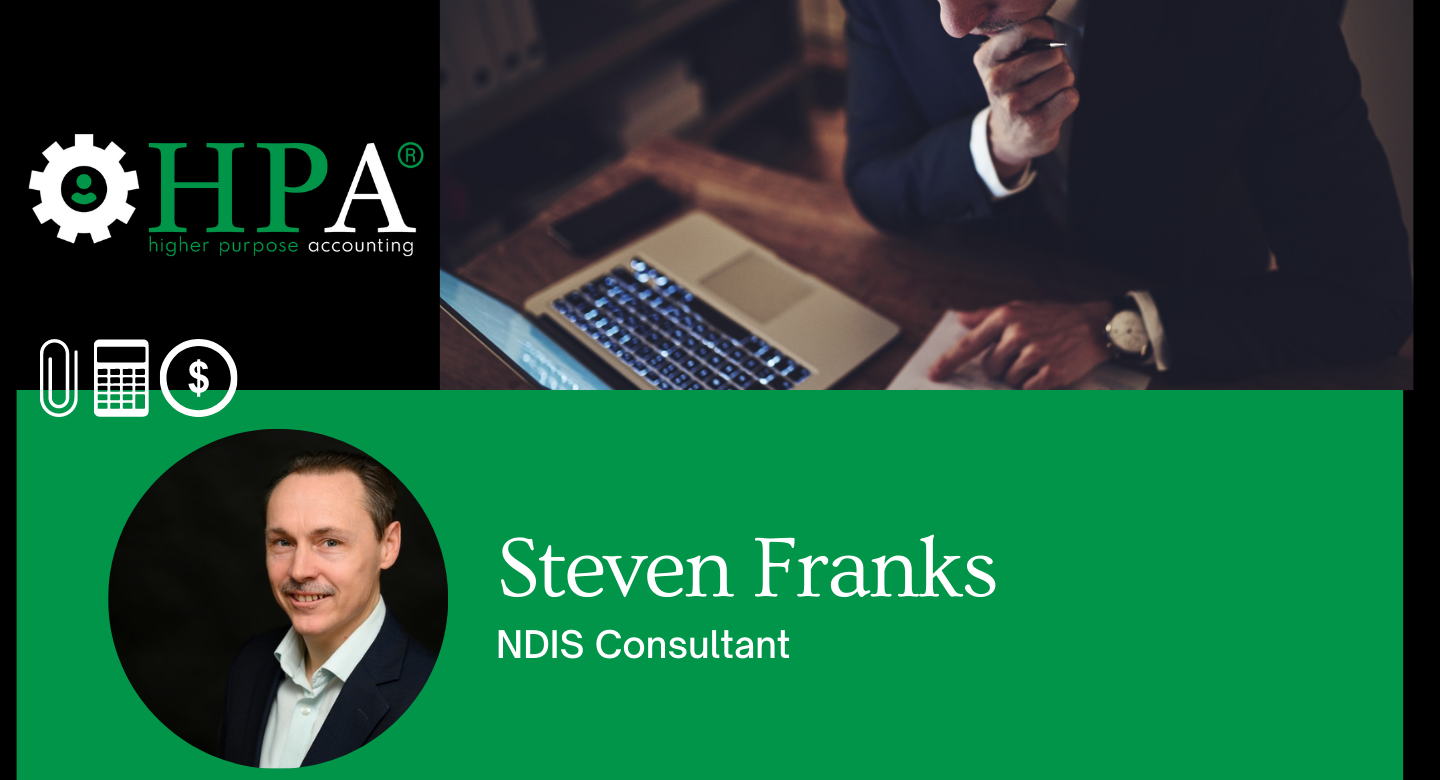 Steven Franks
BBUS ACCT; ADV DIP PROFESSIONAL ACCOUNTING; FELLOW OF IPA; CERT MINDSET MASTERY; CERT EMOTIONAL INTELLIGENCE; CERT HIGH PERFORMANCE MASTER
Steven helps frustrated businesses establish robust financial and administrative management as well as streamlining and automating process to save time, money and take advantage of available opportunities.
Steven has also become a specialist in the NDIS field.
Example Featured Products
Showcase other available courses and coaching products you're selling with the Featured Products block to provide alternatives to visitors who may not be interested in this specific course.
EXAMPLE