The Principle that Sales Success is Not Dependent on Any External Forces
In this module Terry Mullins explains what you really need to be successful in selling.
The Reluctant Salesman's Power of Authenticity© approach to sales means all that has changed.
Over the last 20 years, the Reluctant Salesman, Terry Mullins, has developed a sales approach that allows reluctant sellers to be authentic and true to themselves all while achieving far better results with less effort.
Terry will show you that by being authentic and at ease you can connect with more clients and achieve outstanding results and all without a script in sight.
'The Power of Authenticity' is a CPD Accredited online sales training programme designed for anyone for whom traditional sales methods seem inappropriate, ineffective or uncomfortable.
NOTE: This is one module from the full course The Power of Authenticity in Selling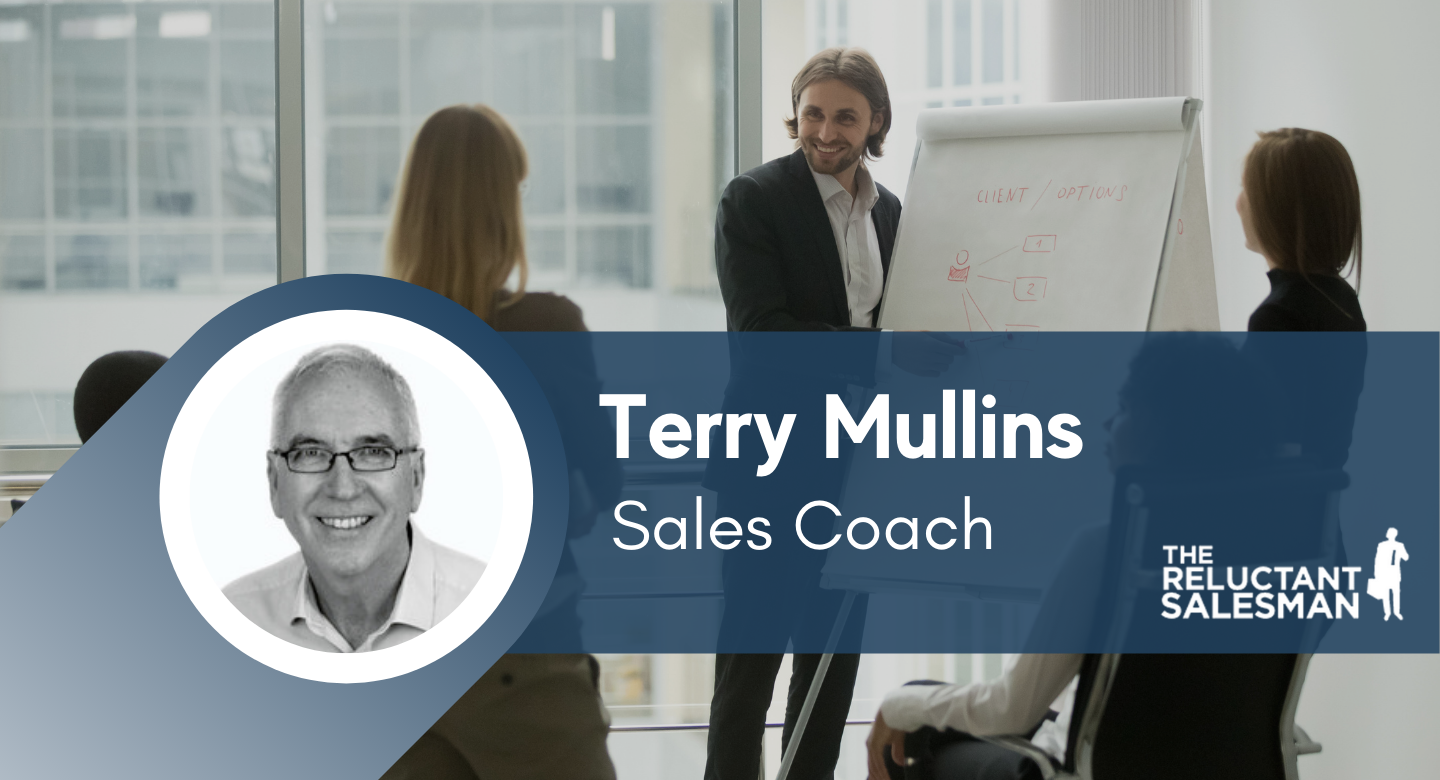 Terry's sales career started by accident, he had no wish to be a salesperson and did not particularly like sales people. He soon discovered that the approach he took to selling as a result of this 'reluctance' led to immediate success without ever following a company script or consciously 'closing' any client.
He wrote the first Reluctant Salesman course in 2002 and this has developed into the 'Power of Authenticity' system.
Testimonies
 "Brilliant! Are you a hypnotist? A revelation! It works! It has altered the whole way I work. Bottle it and sell more.
Fiona Vigar, FIV Architecture
 ____________________ 
"Terry does exactly what it says on the tin - makes selling simple. He breaks down all the barriers, clears away the fog, and gives the profession of selling some much-needed honesty and integrity. No matter how experienced you are in sales, time spent with Terry is invaluable."
Jeremy Squibb, Kellsall Steele Finance Group
 ____________________ 
"Terry made me look at sales in a completely different way. Highly recommended
Marie Leggo, Ridgeberry Design
 ____________________ 
"I attended Terry's one-day workshops in London a couple of times. They were inspirational and gave me a great big "phew" about handling the sales process. It was the biggest mind-shift that I've had and has put me completely at ease when clients are in front of me. Absolutely brilliant Terry, thanks for helping me see life in a different way!"
Sally Nealon, Body Knows Best, Healthcare
 ____________________ 
 "Terry delivered Sales coaching, mentoring and training to some of my business clients. The feedback from these clients was excellent and proved that Terry makes a real difference to the sales success of businesses
 Diana Lobb, Leadership & Management Adviser for Business Link, Peninsula Enterprise.
 ____________________ 
 "Terry has a clear message and a straightforward method of conveying it. The skills he brings to sales training are essential for any business to learn. I would recommend Terry to any client, friend or member of family because he is a great person too. If you want to create the freedom to sell - you should contact him."
 Matthew Clarke, Kernow Pods,
 ____________________ 
"Terry's sales training was very easy to understand and made the whole sales process more enjoyable from my and my customers point of view."
Ray Bolitho, Financial Advisor
 ____________________ 
"His program was unique and his on-going support through his mentoring and coaching sessions really helped us focus on our goals. Knowing Terry since 2009, I can categorically say that he is very professional and trustworthy and would happily recommend his services."
David Williamson, City Local,
____________________ 
"I have now collated the responses from this event, and I'm pleased to say it was extremely well received with 100% rating the event good or excellent".
 Emma Metcalfe, Royal Institute of British Architects
____________________ 
  "Attending Terry's one day workshop was a terrific eye opener, or rather development of awareness that sales is more about facilitation than persuasion. Some, even most customers already want to buy they just need help to facilitate that process. This was a great help and has benefited our consultancy ever since.
Nigel Spencer-Knott, Who's Really Who?
____________________ 
 "Terry The Reluctant Salesman ltd has provided Nigel Bawden Bookkeeping LLP with excellent sales training to help drive our buisiness forward. Terry's depth of knowledge has been a positive influence in kickstarting our direct b2b sales."
____________________ 
"Terry offers an approach to sales which I can only describe as 'Not selling'. He helps people responsible for selling products or services to not be an obstruction to the customer/client's decision making. a very refreshing approach to a very old profession."
Robin Narayan, Bates Millfield Financial Planning
____________________ 
 "Terry has helped me to see beyond the cliches of sales and focus on what is important to aid my business. Straight-forward coaching, advice and encouragement with no "one size fits all" attitude."
 Adrian Taylor, Aawen Design
____________________ 
 "Terry takes a refreshing approach to helping people develop their ability to sell in a natural way. I've employed him to speak to my Mastermind Group members and have also seen the beneficial effect he has had when coaching local business people. If you want to gain more sales with less pressure and without having to remember lots of techniques, Terry's your man..."  Mervyn Smallwood, Mastermind Coach